What to Do and Buy for Valentine's Day 2021
"Cupid is calling... he wants his wings back"
It is that time of the year, whereby Saint Valentine tugs on your heart-strings on February the 14th. You might be intending to ask out a more-than friend or are part of a couple who has been together since the start of time. Regardless which category you fall under, it is a no-brainer that gifts are part of the Valentine's equation. You might be conjuring up images of store-bought chocolate and red bouquets of flowers held by a dashing certain someone standing on your doorstep. Stuck on what exactly to get your other half or just tired of rehashing stereotypical gifts? Read on and we'll give you the lowdown on what girls like – all from a girl's perspective.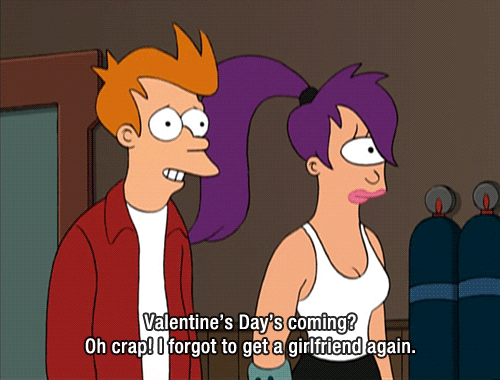 Source: The Simpsons from Giphy
Athletic and Sporty
Does your special someone love to hit the gym, or down for trying the latest workout activity with her fellow girl friends? Consider getting her a new set of workout clothes from her favourite workout apparel brand! Besides the staples from generic athletic brands like Adidas and Nike, some highly raved local brands including Kydra and Yumi Active. Their workout lines are both stylish and functional, so you'll definitely find something that suits her. 
Source: Yumi Active | Instagram
Experiential-wise, why not get a Classpass or F45 subscription plan for the both of you? Not only is it something that is in her zone, you will also stay fit together and experience new activities together. Classpass offers a variety of activities including yoga, boxing, spin, MMA and more, while F45 is designed with a HIIT angle to ensure that every workout is challenging and rewarding. 
Source: Classpass | Instagram
Artistic and Creative
If your significant other is a creative and artistic spirit, anything handmade is a plus point in their book. They'll definitely appreciate the effort in your attempt at something DIY, especially if you are not artistically inclined as them. If you want to step it up a notch, an explosion box is a good idea in place of a regular card. It is an interactive photo gallery and card of sorts, with many origami cards stuck together to create it. We found a great video reference if you are confident in making it from scratch, if not there is also a pre-made version that you can buy from Shopee and fill up with words and photos (but you didn't hear it from me). 
Source: South Park from Giphy
For a Valentine's date, art jamming is a favourite amongst the public irregardless or their artistic ability. Painting is known to be therapeutic and doing that along with a good cup of coffee can't go wrong. Artestiq is a well-known art jamming cafe with outlets in Orchard and Dhoby Ghaut where you can paint and have a pot of tea at the same time. Of course, a budget friendly version would just be to get your own paints and canvases and do it at home!
Source: Arteastiq | Instagram
Girly and Basic
Don't get me wrong, being basic isn't a bad thing (being a self-proclaimed basic monochrome archetype myself). You can't go wrong with a bouquet for Valentine's day that's for sure. You can give it a slight remix by opting for dried flowers instead so they won't wither or have the flowers in a box or casing so it can be made into a centrepiece for a bedside table. Other popular bouquets are snack bouquets, where you can opt for your lover's favourite snacks and candy to be the "stalks" instead. Local florists are aplenty and many have good deals this Valentine's day as well.
Look out for @bengsflowers telegram group, the largest floral exchange platform in Singapore. What started out as a community for florists to clear excess flowers blossomed into a marketplace for pre-order and in stock bouquets that are all competitively priced. You can be sure to get your money's worth and a wide variety too with sellers posting on the daily. Speaking of which, they are currently giving away 10 FREE bouquets of flowers so pop by their telegram channel to grab one of your own!
Source: thisstalkmarket 
If you need a no-frills date idea, we got you covered. A simple baking or cooking class that you can do together is perfect for the occasion. You can show off your domesticated skills (or not) and have fun doing an activity together. You can check out baking workshops by nanatang, ToTT and Baker's Brew to name a few to get your hands dirty in the kitchen. 
Source: Nanatang | Instagram
Entrepreneur and Hustler
Now this is our area of expertise, if you have a hustler for a girlfriend who is always on the go meeting clients and making sales, you already know what you should get. Onegoodcard is a no-brainer present, allowing her to make connections with others in just one tap. She can share her contact information, work and school experience, portfolio and more all in one profile. Not to mention, we have a variety of colours and designs to cater to everyone's palette (check out our pastel line!) 
We are having 15% off our Chinese New Year collection (think red and gold) with code 'CNY15'. View our shop now to view our entire collection and check out now to get it before Valentine's!
At the end of the day, you know your other half best, so trust your gut (or opt for something that can be refunded just in case). When you're in doubt, it's always best to check with her best girl friends for the input as well. We girls got your back.