3 Tips for a Eco-Friendly Chinese New Year
Go green for an ox-spicious new year
Chinese New Year is when more is more – from the food, drinks, festivities and everything else in between. This year will be slightly muted due to the pandemic, but festivities pursue nonetheless. With festivities come a lot of food wastage from overcooking and paper waste from angbaos. It is easy to turn a blind eye to these as Chinese New Year only occurs once a year. Still, there is no reason for us to forget about how we are affecting the environment amidst all the pomp and celebrations. Here are some easy ways for you to have a more eco-friendly party during this festive period!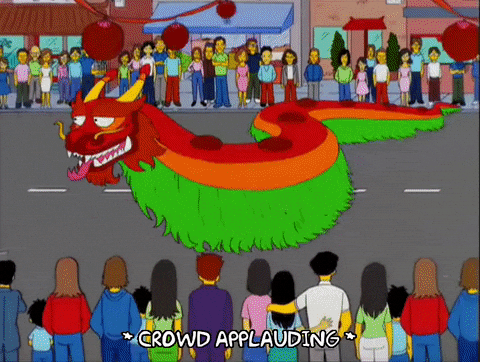 Source: The Simpsons from Giphy 
Donate Old Clothes 
The New Year means that it is time to Marie Kondo your closet to make way for your New Year shopping! But before you send your clothes down the trash, know this – over 20% of the world's waste comes from our preloved textiles or leftover materials from clothes production factories. Instead of contributing to that statistic, sell your preloved items on platforms like Carousell to make a quick buck or donate them to the needy. 
Refash is a company that takes in your preloved clothes (that are in good condition of course) and gives you money in return. Clothes that they accept will be resold in their retail and online stores, so you can stop the cycle if waste and you can purchase clothes from well-known brands at a fraction of the price from their stores. Anything that doesn't pass their QC will be donated on your behalf, so you don't even need to lift a finger! Talk about a win-win situation – so now you have no reason to not get decluttering!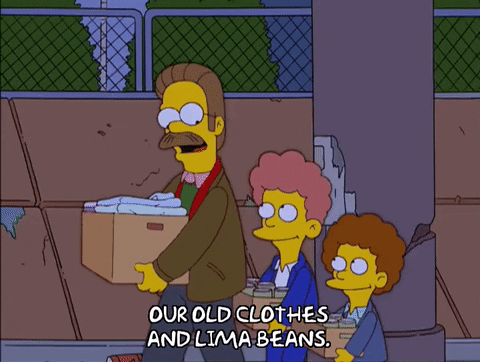 Source: The Simpsons from Giphy
Takeaway Excess Food 
This festive period can only mean one thing – a multitude of home cooked food, desserts and snacks. Relatives spare no expense in ensuring that the entire family is fed, and cooking up a storm in the kitchen for a spread akin to a hotel buffet. In 2019 alone, Singapore generated almost 744 million kg of food waste. To put that in perspective, it is equivalent to wasting 2 bowls of rice per person per day, or a mountain the size of 51,000 double decker buses! Letting home-cooked dishes go to waste is a shame if you can't polish them off, especially when they are rare to come around. Bring over takeaway boxes to gatherings to pack leftovers to settle your meals for the upcoming week. Opt for reusable containers that are microwave-safe so you don't have to transfer the food around just to heat them up.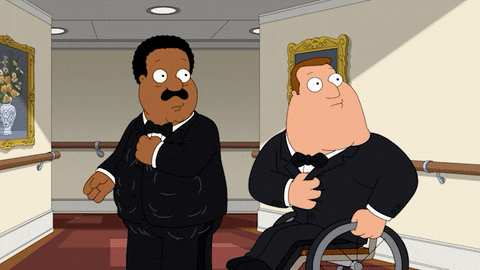 Source: Family Guy from Giphy 
Digital Angbao
Instead of painstakingly loading angbaos this Chinese New Year, opt for a safe and eco-friendly digital red packet option with DBS PayLah! You can personalise them with messages and festive stickers to relatives and friends through the app and your recipient will receive your red packet on the spot. Instead of just chucking your old or used red packets, take them to Takashimaya's Ang Bao Recycling Bin. It is available until the end of this month and the red packets collected will be repurposed into fresh paper products for a new lease of life.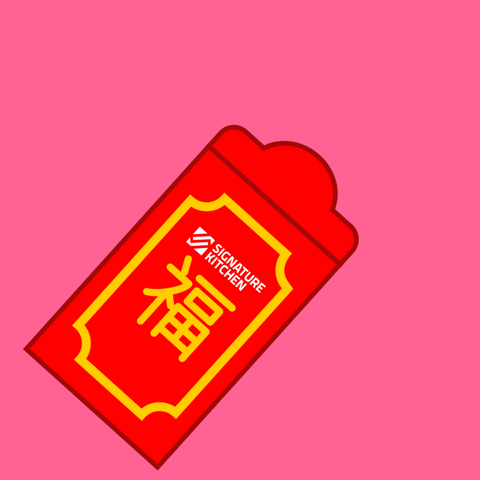 Source: Signature Kitchen from Giphy
 Now you're set for a eco-friendly Chinese New Year, or how ever much you are able to celebrate of it anyway. Though the pandemic is an ever present threat, climate change has been worsening year by year and won't be put on pause for COVID-19. The onegoodcard team wishes everyone a prosperous, safe and green Chinese New Year ahead!